There are a wide range of angel investment groups throughout the country, aligned with Angel Association New Zealand. Angel investors provide financial backing for promising start-ups and early-stage businesses, often supporting founders through business networks and governance. This activity helps support the companies of the future, driving growth and innovation in the economy.
PWC have released their latest report on Startup Investment, providing data for the second half of 2022.
Early-stage investors invested $118m, matched by an additional $117m of funding from Venture Capitalists (VCs), with the data showing some interesting trends despite a drop-off in investment levels in 2022. In 2021 Angel investors took part in over 170 deals, dropping back to about 140 deals in 2022. Software remains the most funded sector, receiving 45% of total funding, followed by 'Deep tech' which attracted 34% of total funding.
Deep tech companies are based on innovations in science and engineering. They focus on solving real-world problems using new technologies that are developed in research labs within universities, government-funded institutions, or private companies. Often seeking to address major societal challenges, it's a sector that's experiencing rapid global and domestic growth. Among DeepTech verticals, Cleantech received the most funding with 72%, followed by Healthtech 13% and Space Technology 12%. See the breakdown below.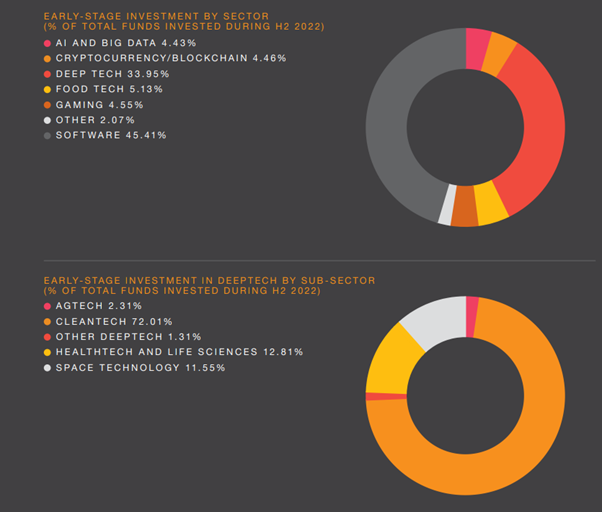 Long term value
A slowing economy means that start-up companies need to focus on fundamentals and growing long term value.
Catalist is increasingly working with angel investment groups, helping businesses source investment, and facilitating the online transfer of investments. Groups including Angel Investors Marlborough, Angel HQ and Canterbury Angel Investors are now using the Catalist platform for portfolio management.
Interested to find out more? Get in touch at hello@catalist.co.nz.
By Michelle Polglase